By ThingsKenya Writer
Rwanda will welcome World Travel Awards for the first time, with the Africa Gala Ceremony 2017 set to take place in the country's capital, Kigali, on 10th October.
The organization shall be joining the AviaDev event that will bring together airports, airlines, governments, industry suppliers and tourism authorities to determine the future air connectivity and infrastructure development of Africa. The event provides an opportunity for the aviation and hotel development communities to share intelligence on their future plans, catalysing tourism development on the continent.
Announcing on the participation, World Travel Awards President and Founder, Graham Cooke, said that it will be an honour for the event to take place in Rwanda for the first time.
"Rwanda is the heart of Africa,. It has become rightfully known for its spectacular scenery – think thundering waterfalls, towering mountains and virgin rainforests – and rare wildlife. This is a fantastic opportunity for Rwanda to claim its rightful place as Africa's rising star."he noted
World Travel Awards Africa Gala Ceremony 2017 will take place at the five star Radisson Blu Hotel & Convention Centre – which features the first convention centre in Rwanda with room for up to 5,000 delegates – alongside the Africa Hotel Investment Forum (AHIF) and AviaDev Africa (10-12 October).
The leading hotel investment conference that connects business leaders from the international and local markets, driving investment into tourism projects, infrastructure and hotel development across Africa, AHIF is attended by the highest calibre international hotel investors of any conference in Africa.
The Chairman of the Bench Events Mr. Jonathan Worsley commended the World Travel Awards for chosing hold its Africa ceremony on the main stage at AHIF.  "The combination of AHIF for hotel investment, AviaDev for aviation route planning and the WTA for excellence in travel, all happening at the same time and in the same place, is bound to focus more attention on the importance of a successful travel and hospitality industry to the economic future of Africa – and that has to be a good thing." He said.
By ThingsKenya Writer
Tourism and conservation activities at Kenya's South Coast have been boosted by the launch of the Sh80 million Shimoni tourist jetty and patrol boat at Kisite Mpunguti Marine National Park in Kwale County.
The event was presided over by Mr Harun Khator, the Director of Administration in the State Department of Fisheries and Blue Economy who said the projects would assist fisheries and blue economy in Kwale.
He said the government was committed to putting in place appropriate policy and legal frameworks to support the fisheries and blue economy sector. He noted that the new Fisheries Management and Development Act 2016 had provided for the establishment of new institutions, including the Kenya Fisheries Service, Kenya Fish Levy Trust Fund, Kenya Fisheries Advisory Council and Fisheries Marketing Authority.
The event was franked by representatives from Kenya Wildlife Service, Marine Police, Kenya Defence Forces, Kwale and Lamu County Conservation and Compensation   Committee chairmen, boat operators, tour operators and the local community.
The commissioned projects were funded by the World Bank and implemented by the Kenya Coastal Development Project bringing together seven government agencies, including Kenya Wildlife Service.
KCDP has been fully aligned with the government's Vision 2030 development blueprint through support for tourism development, management of natural resources and for poverty elimination. The jetty is expected to ease congestion of users at the Shimoni fisheries jetty and to minimize any negative incidences experienced by tourists as they access the marine protected area.  The jetty together with the rehabilitated Sheldrick Falls tourist site at Shimba Hills National Reserve are expected to rejuvenate tourism, one of the key sectors through which KWS contributes to the national economy.
KCDP has also funded a number of other activities in the areas of institutional capacity building, protected area management effectiveness improvement, and in reduction of human-wildlife conflict.  These include:
Renovation of Mombasa and Shimoni stations, purchase of one patrol boat, training of 46 staff on diving and 52 on strategic adaptive management has enhanced the institution's capacity to manage protected areas effectively.
Purchase and installation of mooring buoys at Kisite-Mpunguti, Mombasa, Watamu, Malindi and at Kiunga Marine Protected Areas (MPAs). This provides a critical dimension in assisting in enforcement of management rules and regulations through efficient demarcation of MPA boundaries and different use zones.
Information obtained from biodiversity assessments for Shimba Hills National Reserve, Kisite-Mpunguti, Malindi and Watamu MPAs, and from an aerial wildlife census for Lamu area is useful in informing management decisions towards conservation of wildlife and their habitats in respective areas. Moreover, an installation of an Integrated Coastal Biodiversity Information Management System at Mombasa station will facilitate information sharing among stakeholders.
The project has seen various documents developed including, Sable antelope, and Coral reef and Sea grass conservation strategies, management plans for Witu Forest Ecosystem, Kisite-Mpunguti, Watamu and Malindi MPAs.  These documents will guide in conservation and management of species and critical habitats of conservation concern.
The erection of 6-km electric fence at Lukore area along Shimba Hills National Reserve will help mitigate Human-Wildlife Conflict in the area, and improved awareness and community participation in natural resource management, primarily through training of community members on tour guiding and biodiversity assessment procedures ensure sustainability in environmental management.
Through KCDP, KWS has constructed a community welfare structure, adjacent to the floating jetty and this will provide space for community members to sell local artifacts to tourists or any other natural resource-based small-scale business.
From choosing the perfect destination to getting your clan organized, we offer the ultimate guide to a freakout-free family fest!
They can be the most heartwarming–or the most chilling–words in the English language: Family Reunion. If the thought of organizing your extended clan for a long weekend away sends a shiver down your spine, relax. If you start early, do your homework, and take advantage of new digital tools, you can pull off a multigenerational jaunt that will delight everyone from one to 100. Here, our all-you-need-to-get-started guide to planning the party of the year.
GET ORGANIZED
Start the conversation. At least nine months in advance, start talking to your extended family's "thought leaders"–the ones who typically make the decisions and do the heavy lifting at, say, Thanksgiving. Teresa Plowright, About.com's guide for family travel, suggests that earlier is better when coordinating the schedules of many families. "People like to know 'Next June we're all getting together'–you just have so many work/vacation schedules for adults, seasonal jobs, sports programs for teens, etc." Especially if your family intends something ambitious, like an overseas trip, a popular resort, or a cruise, at least a year is advisable. For more casual affairs ("Let's rent a couple of beach houses!"), Plowright notes that a few months in advance might be fine. Before deciding on your reunion destination, it's best to put together three final options (including sample activities, meals, and a rough estimate of the cost) that the group can consider. (See "Pick the Perfect Destination," below.)
Delegate. If you're the type who's reading this story and already taking notes, you're likely the one who is going to volunteer to do too much. Don't. As with any family get-together, a reunion will require delegating important tasks. Depending on the family dynamic, this might mean choosing a leader to coordinate the event while one person is the reservation-keeper, another is in charge of meal planning, another for activities. If all of this is starting to sound like work, well, it is. Like a well-run business, the reunion will require a staff that works independently and reports back to the group regularly.
Make reservations. These days, of course, reservations can all be made online, which is mostly a blessing. But a slew of paperless reservations (flights, hotels, rental cars, and restaurants) made by a team of far-flung relatives can sometimes spell confusion. Use a reliable app such as TripIt
 or Google docs
 to store and share all your important dates, times, and ticket info. In general, you should get a head count and make lodging reservations six to nine months prior to your reunion; buy plane tickets four to six months in advance; book activities at your destination about two months in advance; double-check your head count one month prior to travel; and re-confirm all your reservations and any airport transportation and car rentals one week in advance.
PICK THE PERFECT DESTINATION
Family adventure. If your clan is the type to hop out of bed every morning itching to climb, hike, bike, and explore, "Escorted tours with all details handled and excellent lodgings can be a good idea," suggests Plowright. A number of adventure-travel companies offer "family adventure" packages aimed at multigenerational groups. Adventures by Disney
 is, no surprise, a favorite choice of many families.
Ski resort. "I've seen many multigenerational vacationers at ski resorts," notes Plowright. "It can be pricey, but the good news is that even if some of the family doesn't want to ski or snowboard, there are more and more non-skiing activities to enjoy."
Disney. "Families with grandparents along seem to be everywhere at Disney World," says Plowright. The park offers a wide–and ever-widening–range of activities, even for those who aren't interested in the rides.
All-inclusive resort. "All-inclusive resorts offer plenty of activities during the day, plus kids' programs," suggests Plowright. "Families can decide to do some activities together and split up for other things and re-group at dinner." Whether you're a partier or just a fan of fine dining, swimming pools, and white-sand beaches, one of the most appealing aspects of the all-inclusive is that you can go for days without ever reaching for your wallet.
Beach house. "Rent a big vacation home, or a few that are near one another, for a relaxing reunion," says Plowright. But remember if your reunion is "self-catered," no one person should be stuck doing all the cooking. Delegate a different cook–or group–for each evening's dinner.
Cruise. "Think of a cruise as a floating all-inclusive resort," says Plowright, "with the same potential to be together or easily break off for separate activities." A cruise might just be the easiest reunion from a planner's point of view, with ample opportunities for age-appropriate activities, easy seating for meals, and special events such as private cocktail parties, photo sessions, and a fairly standard discount of one free passenger for every eight cabins. But because most cruises are not strictly all-inclusive, do keep an eye on extra costs–that glass of wine you raise to toast your grandparents may set you back $10.
DON'T FORGET THE SWAG
Order customized souvenirs. Sending everyone back home with a family reunion T-shirt–or tote bag, baseball cap, or custom-made craft–can help keep the event alive in everyone's memory for a long time.
Display a family tree. No, you don't have to know exactly when your great-grandmother left Palermo, or what her father's name was, to cobble together a nice family tree to answer inevitable questions, like "Who is that dude and am I really related to him?"
Bring photo albums. Sure, you can–and should–trot out those dusty "analog" albums that everyone loves. But don't forget to collect and organize family photos digitally for future reference.
Take a group photo. Book a professional photo session through your hotel, resort, or cruise line. Pricey? It can be–but it's worth the quality of the photography, shot composition, and professional printing.
Make a music video. You may have to leave the tech to the teens, but it's way easier than you think to shoot and edit your own family's take on, say, "Call Me Maybe," or "Good Time." Trust us, the laughter will linger long after you've packed your bags and headed home.
Ask the kids to make name tags or dinner-table place cards. Pack craft paper and crayons and make the little ones feel like big shots by having them create name tags or place cards for themselves and the grownups. It's a colorful way to decorate your dinner table, and the sentimental value of those mini-masterpieces will only go up as the years go by.
Ever forget to turn off your phone while flying? You're not alone.
According to a new joint study released last week by the Airline Passenger Experience Association (APEX) and the Consumer Electronics Association (CEA), almost one third of fliers don't heed the on board, pre-take-off warning, "Please turn off all personal electronic devices, including laptops and cell phones."
In the study, Portable Electronic Devices on Aircraft, almost one-third (30 percent) of respondents reported they have accidently left their portable electronic devices (PED) turned on during a flight. Of those passengers who accidently left their gizmos turned on inflight, 61 percent said the device was a smartphone.
"This study showed us that most travelers are using their PEDs as often as possible while traveling, and many would like even more opportunities to use their devices" Russell A. Lemieux, APEX executive director said in a press release.  "The data in the study reveals important insights into actual passenger behavior, which we hope the FAA will find useful as it deliberates on this issue."
Four in 10 passengers would like to use their gadgets during all phases of flight, including take-off and landing, according to the study. Currently, FAA rules mandate passengers turn electronic devices off below 10,000 feet in order to mitigate interference with the aircraft's navigation systems during critical phases of flight.
The report was conducted through a telephone survey of 1,629 US adults between Dec. 14-18, 2012, with a margin of error of plus or minus 2.43 percent. Results of the study were shared with the U.S. Federal Aviation Administration (FAA) as it reviews its policies for inflight PED use.
When Amtrak unveils the first of 70 new locomotives Monday at a plant in California, it will mark what the national passenger railroad service hopes will be a new era of better reliability, streamlined maintenance and better energy efficiency.
On a broader scale, the new engines could well be viewed as emblematic of the improving financial health of Amtrak, which has long been dependent on subsidies from an often reluctant Congress.
More than 31 million passengers rode Amtrak in the 2012 fiscal year, generating a record $2.02 billion in ticket revenue. Amtrak says it will be able to pay back a $466 million federal loan for the locomotives over 25 years using net profits from the Northeast Corridor line, where ridership hit a record high last year for the ninth time in 10 years.
"This is not the same organization it was a few years ago, still hoping and relying on federal handouts, limping from appropriation to appropriation," said Robert Puentes, a senior fellow in the Brooking Institution's metropolitan policy program. "Even though Washington is mired in debt and dysfunction, Amtrak is reinventing itself."
The new engines will be used on the Northeast Corridor between Washington, D.C., and Boston and on Keystone Corridor trains that run between Philadelphia and Harrisburg, Pa. Three will be unveiled Monday before being sent out for testing. The first is due to go into service by this fall, and all 70 are expected to be in service by 2016.
Amtrak awarded the contract in 2010 to Munich-based Siemens AG, which has made a big investment in the American rail industry over the last decade. The company makes about one of every three light rail vehicles in North America and is building light rail vehicles for Minneapolis, Houston and San Diego at the Sacramento plant where Amtrak's locomotives are being produced.
Among the improvements in the new locomotives are computers that can diagnose problems in real time and take corrective action and a braking system capable of generating 100 percent of the energy it uses back to the electric grid — similar to the way a hybrid automobile's motor acts as a generator when braking, according to Michael Cahill, CEO for Siemens Rail Systems. That could produce energy savings of up to $300 million over 20 years, the company estimates.
They also feature crumple zones, which are basically cages built onto the front end of the train that can absorb impact from a collision. The new models will be the first in North America to use them, in compliance with new federal safety guidelines, Cahill said.
The locomotives, called Amtrak Cities Sprinters, are based on Siemens' latest European electric locomotive and will replace Amtrak equipment that has been in service for 20 to 30 years and has logged an average of 3.5 million miles.
Simply having the same type of locomotive in operation should cut costs, according to Amtrak spokesman Steve Kulm. Amtrak now uses three locomotive models, requiring slightly different maintenance, parts and training.
"Now, we will have one model, one inventory and one training program, and all that will help efficiency," Kulm said.
About 750 people are employed at Siemens' Sacramento plant. The locomotive project also involves Siemens plants in Columbus, Ohio, Richland, Miss., and Alpharetta, Ga.
The ripple effect spreads farther. As a condition of the Department of Transportation loan, the majority of the products and materials used to build the locomotives must be made in the U.S. As a result, some lighting parts are coming from Connecticut, the driver's seat from Wisconsin, insulation from Indiana, electronics from Texas and hydraulic parts from California. In all, 70 suppliers in 23 states are providing components, Siemens said.
Amtrak must still seek federal funding for a long list of planned and ongoing improvements, including replacing sections of pre-World War II electrical systems on the Northeast Corridor that cause regular disruptions. The fact that Amtrak has reduced its debt by 60 percent over the last 10 years and its federal operating subsidy to 12 percent could make it an easier sell.
"Ten years ago we were in a tougher spot," Amtrak CEO Joe Boardman said last week. "Now Amtrak on the Northeast Corridor is in a much healthier position. We're trying to maximize that, to the extent we can, to pay for what we should pay for on the Northeast Corridor."
SANDUSKY, Ohio –  Rollercoaster lovers, rejoice: a new, $30 million winged rollercoaster called GateKeeper will soon be open to the public at Ohio's Cedar Point.
The park in Sandusky opens for the season Saturday.
GateKeeper is designed to mimic flight. It's two-minutes, 40-seconds of flips, drops and spirals. The coaster is 4,164 feet long and travels at speeds of up to 67 mph — park officials say it has set world records for the tallest drop, longest track and most inversions of any winged rollercoaster.
On a winged coaster, riders sit on either side of the track with nothing above their heads or below their feet.
Two of the park's old rides, Disaster Transport and the Space Spiral, were taken down to make way for GateKeeper.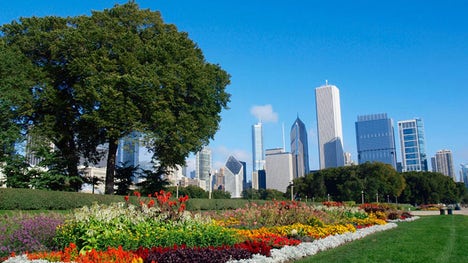 With Mother's Day quickly approaching, many families will be thinking about the best ways to indulge mom on her special weekend. Pampering is one the most popular, and appreciated, thank-you's that a mom could ask for, but there are so many different ways to do it. Breakfast in bed, spa days, relaxing getaways, an amazing dinner; these are all great choices, but which is best? Well, why not go for all of the above this year, but do it without a huge price tag. At Hotwire, we're seeing low prices and great hotel deals in even our most popular Mother's Day destinations for 2013. This means the whole family can get away while saving enough money to pamper mom with a plethora of big-city activities. And let's be honest, few things will make mom happier than spending quality time with her loved ones.
To help you get planning, I've compiled our top-10, most-booked destinations for Mother's Day weekend this year.
1Chicago, Ill.

iStock

If your mom fancies herself a gourmet chef, or just enjoys a delicious gourmet meal, look no further than Chicago. Visitors can stop by Pucks' at the Museum of Contemporary Art for a delightful feast for both eyes and stomach. Alternatively, check-out Bottle & Bottega for a luxurious buffet followed by a two-hour painting session. Mom can dine in style and leave with a hand-made souvenir. For the outdoorsy family, head to the Morton Arboretum, where you can enjoy breakfast and take a family portrait amidst the scenic gardens. Though our research is showing Chicago is the top booked destination for Mother's Day weekend, visitors can still find fantastic hotel deals through Hotwire to take full advantage of the city's attractions.

Sample deal: $107/night for a 4-star hotel in the Downtown Chicago—Millennium Park area – bookings on 4/23/13 for stays 5/10-5/13/13.

2Las Vegas, Nev.

iStock

While Las Vegas offers indulgent breakfast buffets and meals from renowned chefs year-round, it's also an ideal spot for moms who are interested in world-class live entertainment. And with average hotel prices just under $100 to attract travelers before the hot summer months, you won't feel guilty treating mom to a show. Steal her away to Siegfried and Roy's Secret Garden and Dolphin Habitat and feast your eyes on exotic animals. Or, try Beatles' LOVE Cirque du Soleil set, featuring classic Beatles tunes and jaw-dropping acrobatics.

Sample deal: $75/night for a 4-star hotel in the Strip—South area – bookings on 4/23/13 for stays 5/10-5/13/13.

3New York, N.Y.

iStock

New York offers an abundance of options for the "do-it-all" moms who have a wide variety of interests. With plenty of hotels to choose from, all competing to attract spring leisure travelers on the weekends, you're sure to find a room and a deal that's a perfect fit for mom. Sweep her away for a soothing day at one of the city's top-rated day spas before catching one of the city's relaxing dinner cruises, featuring a gourmet meal and a magnificent view of the New York skyline. For those families looking for a wonderful bonding experience, spend the morning walking across the iconic Brooklyn Bridge—a great way to talk and enjoy the fresh spring air.

Sample deal: $140/night for a 3.5-star hotel in the Downtown—SoHo—Financial District area – bookings on 4/24/13 for stays 5/10-5/13/13.

4New Orleans, La.

iStock

New Orleans has been known for its southern hospitality, including hosting a variety of fun events to celebrate mothers on their special day. Head down to Magazine Street for the annual champagne stroll, where you can enjoy an evening of shopping on this famed street, along with some free champagne! Travelers can also enjoy a classic southern brunch before heading to City Park, located in the heart of the Big Easy, and visit the New Orleans Botanical Gardens or the Walda Besthoff Sculpture Garden. If you're looking for a fun activity that the entire family will enjoy, you'll want to pay a visit to the Audubon Zoo, which offers a variety of Mother's Day-related activities, including live music. And outside of peak seasons like Mardi Gras, The Big Easy is almost always one of the more affordable destinations.

Sample deal: $80/night for a 4-star hotel in the Downtown New Orleans area – bookings on 4/23/13 for stays 5/10-5/13/13.

5Seattle, Wash.

iStock

Seattle is offering a host of special Mother's Day events. This, coupled with warmer weather, means there's no shortage of ways to spend the day for adventurous moms. Rather than the traditional brunch, take your mother to the Pacific Science Center where you can enjoy an IMAX experience and learn more about dinosaurs, sea creatures and other wildlife. Or trek over to the Smith Tower observation deck, a scenic lookout in one of the city's oldest skyscrapers, to observe Seattle's beautiful skyline and waterfront views. As Seattle's sunniest days are still just around the corner, hotels are offering plenty of great deals in advance of high season; average room rates are hovering around $100.

Sample deal: $105/night for a 4-star hotel in the Downtown Bellevue area – bookings on 4/23/13 for stays 5/10-5/13/13.

6San Francisco, Calif.

iStock

San Francisco is a cultural mecca offering a host of walking tours for moms who are interested in an educational (and foodie-filled) getaway. One such tour, hosted by Gourmet Walks, features seven different stops over the course of three hours at various downtown chocolate shops, so you can sweep mom off her feet with a decadent afternoon of desserts. If architecture is more up mom's alley, enjoy the Victorian Home Walk—a historical tour through some of the city's oldest homes. And, for those who love wine, Napa Valley is just a hop and a skip away. You and mom can board the Napa Valley Wine Train and enjoy a lovely ride through some of the area's finest vineyards, tasting some of the fruits along the way.

Sample deal: $97/night for a 3-star hotel in the Civic Center South-Hayes Valley area – bookings on 4/24/13 for stays 5/10-5/13/13.

7Washington, D.C.

iStock

This year, the nation's capital is offering an abundance of fun family activities to share with mom on her special day. Treat mom to a Mother's Day Tea at the Tudor Place Historic House and Garden. Moms and children ages five and up can celebrate the day together while enjoying teas, desserts, and finger sandwiches amidst a lovely garden. For those who love to run, sign up for a jaunt with mom at the Mother's Day 5K, which kicks off in Rock Creek Park. Afterward, you can enjoy brunch along with amazing views on a cruise along the Potomac River. Washington, D.C. is seeing some price drops this year, partially due to less business travelers because of the sequester. With average room rates in the area holding steady at around $110 per night, you'll have the freedom to enjoy all the city has to offer without hurting your wallet.

Sample deal: $82/night for a 4-star hotel in the Arlington—Falls Church area – bookings on 4/23/13 for stays 5/10-5/13/13.

8Orlando, Fla.

iStock

While Orlando offers family fun year-round, at this time of year, the city caters to moms looking for a flower-filled getaway. With hotels in the city currently experiencing a lull in theme park visitors between spring and summer break, great prices have become the rule instead of the exception. Room nights are averaging $68 so you won't have to spare any expenses on your daytime entertainment. The Harry P. Leu Gardens are offering free admission for moms this Mother's Day, and with fifty acres of beautifully manicured gardens, grasses and waterways, it's sure to make her day. Or, take mom to the annual Flower and Garden Festival right in downtown Orlando to enjoy the myriad of topiaries on display. Afterward, treat mom to one of the many Mother's Day teas happening at resorts throughout the area.

Sample deal: $57/night for a 4-star hotel in the SeaWorld—I-drive South area – bookings on 4/23/13 for stays 5/10-5/13/13.

9San Diego, Calif.

iStock

This seaside town is a beautiful destination year-round, and not just because of the amazing weather. May, in particular, has no shortage of fun family activities, making it the perfect place to celebrate a sun-soaked Mother's Day. Whether you want to spend the morning on a yacht tour traveling through the San Diego Bay or enjoying brunch with Shamu, there's something here for anyone who's in a vacation state of mind. And, don't forget the San Diego Safari Park for a kid-friendly destination, which offers a bountiful buffet and some quality time with an array of wildlife. There are always great deals to be had in San Diego, but this year hotel prices are down, making this a choice city for celebrating Mother's Day.

Sample deal: $86/night for a 4-star hotel in the Gaslamp Waurter South—Convention Center area – bookings on 4/23/13 for stays 5/10-5/13/13.

10Houston, Texas

iStock

This year, Houston is offering a variety of free activities to help families celebrate Mother's Day. With hotel rates averaging a very reasonable $66 per night, this is a good opportunity to take advantage of deep savings. For moms who love the arts, visitors will want to check out Houston's Miller Outdoor Theater and the Houston Ballet, which will offer free shows on Mother's Day weekend. And, if mom is a sports enthusiast, travelers will want to stop by Minute Maid Park to catch the Houston Astros playing the Texas Rangers.